Working during a Working Holiday in France
How to obtain a work permit for a Working Holiday in France
You will need more than a Working Holiday France visa if you wish to work legally in France. Once you have found a job, you must obtain a temporary work permit and will be asked to produce the following documents:
• A work permit form for non-Europeans
• Your fixed-term employment contract
• A copy of your passport and working holiday visa
• A stamped addressed envelope
• 2 ID photos
These documents must be sent to your regional Direccte (department for enterprise, competition, consumer affairs, labour and employment). Applications are processed by post or in person.
Employers must send a DPAE (employment document) by e-mail or post to the Urssaf, or the MSA for people working in agriculture. Again, you will be asked to provide a copy of your passport, Working Holiday visa and bank account details. Notice must also be sent to the police headquarters.
The job market in France and the sectors that are recruiting
France has a relatively high rate of unemployment compared to neighbouring countries, varying between 8 and 9%. However, jobs are available! An estimated 3 million job offers are published each year and 300,000 positions are not filled.
France is on the lookout for people who are fluent in English and Spanish in tourism, the hotel industry, catering, telecommunications (telemarketing and telesales) and sales. If you have a qualification in a very specific field (healthcare, finance, high technologies), there may be an opportunity for you to be given a short-term contract.

Other sectors that are hiring: construction and specialist manual trades.
The main cities where jobs are available are Paris, Lyon, Bordeaux, Aix-Marseille, Lille, Strasbourg, Toulouse, Nantes, Montpellier and Rennes.
Seasonal jobs are available in the summer in coastal areas (the Atlantic coast, Mediterranean, English Channel and North Sea) and in the winter at ski resorts (the Alps, Pyrenees, Vosges, Jura and Massif Central). Numerous positions as receptionist, maid, chef, waiter/waitress, barman, entertainer and sport instructor are available. Apply from February for the summer season and from September for the winter season.
If you do not have a qualification, you could consider becoming a delivery driver, particularly in a major town or city.
The grape-picking season in France is generally September.

How to find a job in France
The easiest way to find a job in France is to regularly browse the Pôle Emploi website. Also check out specialist employment websites such as Indeed, Monster and Le Bon Coin. You could also sign up with temp agencies (Adecco, Manpower and Randstad) and of course make the most of social media by joining Facebook groups (such as Argentinos en Paris, Australians in Paris, etc.).
How to draft a CV in French
Employers in France want to be able read a CV easily and quickly. CVs must therefore be well-spaced, clear and concise, be set out on one page and be divided into several sections:
1. Your civil status and contact details, i.e. your first name, surname, postal address, telephone number, genuine e-mail address (e.g. first name.surname@gmail.com) and driving licence details if you have one. You may also include a passport photo (don't be afraid to smile!)
2. A job title or slogan concerning your career plan (e.g. bilingual (English) hotel receptionist).
3. Your professional experience. Indicate the name of your employer, your position, the term of each contract and the type of contract (e.g. work placement, volunteer work, seasonal job, fixed-term contract).
4. Your professional skills: linguistic skills (basic knowledge, sound knowledge, conversational or bilingual) and computer skills (state the software you can use).
5. Your training and qualifications (baccalauréat/A level, degree, master's, PhD).
6. Your interests (sport or art, volunteer work)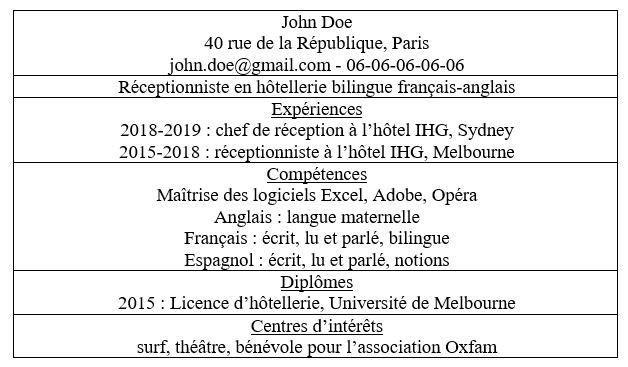 A word of advice: do not have your CV translated by a French person (particularly if you are not fluent in French). Employers will be surprised by the difference between what your CV says and what you say during your interview.
How to write a motivation letter
Again, you must be clear and precise. Your motivation letter must not be longer than one page. It must explain the following: why you are interested in the job position, why you wish to work for the company, your skills, what you can bring to the company, etc.
Below is an example of a motivation letter: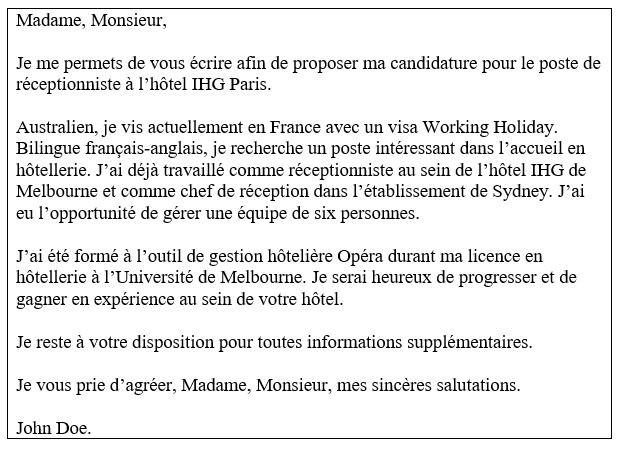 How to prepare for a job interview?
As a general rule, you will be given the opportunity to speak first. You must introduce yourself, provide information on your university course and professional experience, highlight your strengths and skills, and explain your job expectations. The employer will then explain the job to you in more detail and ask you questions in order to assess your motivation. You may be required to do a test to check your skills.
You must be polite and address the interviewer(s) using 'vous'. If the employer addresses you using the 'tu' form, continue to use 'vous'. The employer might ask you to use 'tu'.
If the salary is not indicated in the job advertisement, you will be provided with information during the interview or will have to negotiate your salary directly with the employer. You must therefore gather information about the salary paid for the relevant position.

Need medical insurance for your Working Holiday in France? Subscribe a Cap Working Holiday France policy with Chapka Assurances.